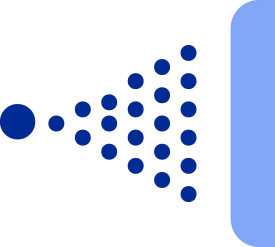 THE SPRAI SURFACE TREATMENT
Surface spraying is the action of spraying a liquid or powder onto a surface.
Surface treatment concerns different types of industry such as agriculture, food processing, medicine, pharmacy, etc ... for applications as diverse as watering, phytosanitary treatment, parts cooling, coating, coating, painting, coating, lubrication, (varnish, glues….).
SPRAI surface treatment devices prevent the formation of fog which pollutes the working atmosphere and makes maintenance difficult.
They spray with a high precision viscous or loaded liquids, allowing economy of material and better performance .
SPRAI devices can be mounted with rotating discs or rotating vibrating discs , which further improve the spray quality .
FOR THIS APPLICATION, SPRAI OFFERS 2 SPECIFIC RANGES OF APPLIANCES:
UNIFORM SPRAYING ON A FLAT OR CURVED SURFACE? LINEAR OR CIRCULAR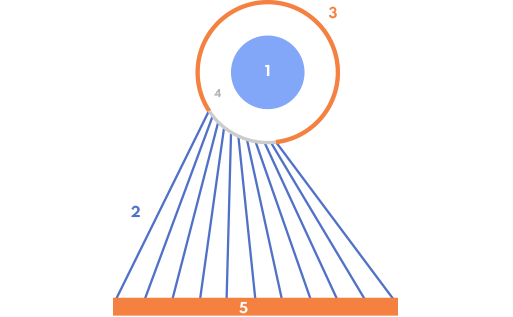 Operation
Rotating disc - The spray disc 1 is enclosed in a housing 3 with a slot 4.
Droplet path - The drops which exit the sprayer through slot 4 are spread out in a line, the other drops are collected and reinjected into the supply circuit.
Cover - Linear motion of sprayer or target 5 allows treatment of a rectangular area.
Slit - Rotational movement of the sprayer or target 5 allows a circular surface to be treated.
Spray Line (Target) - The combination of linear motion and rotary motion can treat any surface of any shape.
ATOMIZERS FOR INTERNAL COATINGS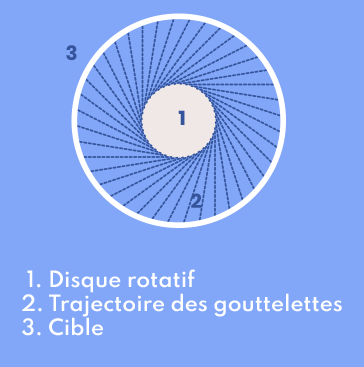 They are small atomizers allowing to spray inside tubes, flasks, bottles.
Internal pipe coating
SPRAI is specialized in the miniaturization of its devices. The combination of a small spray disc and a mini-motor makes it possible to produce devices with a diameter of up to 15 mm. The guiding of these devices inside tubes makes it possible to uniformly line the internal walls of tubes with a diameter greater than 15 mm.
Internal coating of vials, bottles
The internal lining of vials with necks greater than 8 mm can also be achieved by placing the disc at the end of a guide.
Advantages of this technology:
Low particle size dispersion
No fan = no risk of carrying the aerosols by convective effect
No lost product = maximum profitability
Simple adjustment of the spray surface by modifying the distance between the head and the target
Possibility of modifying the average size of the aerosols and the flow rate
No nozzle or orifice = no risk of clogging
Possibility of spraying viscous liquids
Liquid feed by simple gravity or by pump (external or internal)
Reduced size
Possibility of custom device
Permanent movement reducing the risk of sedimentation
Main characteristics of this technology:
Liquid flow from a few milliliters / hour to a few hundred liters / hour depending on the device
Works in all directions
Works in all directions
Brushless motor
Feeding and recovery by peristaltic pump
Automatic drain
Spray cleaning with washing solution
Transfer rate over 98%
Possibility of operating in ATEX atmosphere
Manual control by external box
Automated control by SPRAI software
Our services
SPRAI is a manufacturer's design office specializing in rotating disc spraying. According to your needs, it:
Provides a standard device
Adapts a standard device to your application
Make a custom device
Develops all engineering
Do all the engineering
Provides turnkey installation.
FIND OUR PRODUCTS