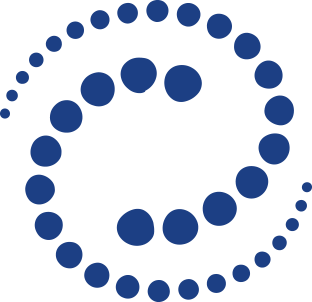 SPRAYING BY ROTATING DISC
There are two main techniques for producing drops:
Spraying a liquid under pressure through a nozzle,
The spraying of a liquid around the periphery of an object (disc, bowl) rotating at high speed.
Spraying by spinning disc offers the followingadvantages compared to spraying via a pressure nozzle:
No risk of blockage;
No propellant;
Low energy consumption;
Low particle size dispersion;
Possibility of spraying all types of liquids, even very viscous or loaded;
Good aerosol particle size control;
Product transfer rate greater than 98%;
Very good reproducibility;
Possibility to modify the average size of aerosols by a simple adjustment;
Small footprint.
PRINCIPLE OF SPRAYING BY ROTATING DISC
When we send a liquid to the center of an object rotating at high speed,it spreads over the entire disc and it forms, under certain operating conditions, jets which then fragment into drops.
The fragmentation of the jets into droplets is the consequence of a random natural instability, which amplifies and cuts the jet, usually giving a main drop and one or more small satellites.
SPRAYING BY SPRAI's VIBRO-ROTARY DISC
SPRAI has also developed a patented technology :VIBRO-ROTATING disc which controls the disintegration of the jets and allows homogeneous drops with high flow rates.
The superposition of a vibration on the rotation makes it possible to control jets cut-off and obtain aerosols statistically all the same size. It also allows to reduce the trajectory of the drops in the space.
A HOMOGENEOUS aerosol
Improves

product quality and effectiveness

Decrease the

amount of product

used and improves

yield

Protects

environment

Optimizes

energy used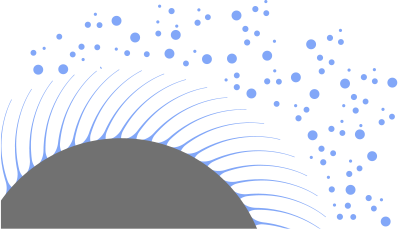 NATURAL SPRAY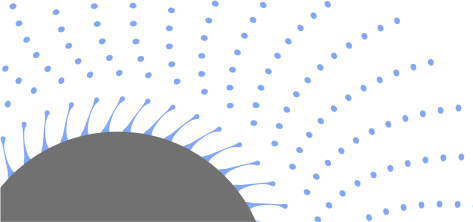 CONTROLLED SPRAY