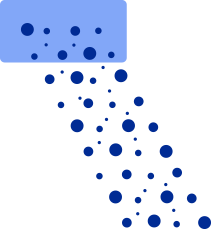 RAIN SIMULATION
Rain is characterized by a wide variety of droplet sizes and flow rates, ranging from drizzle to thunderstorm. Its effects are large enough to make it interesting to artificially reproduce the different types of rain.
SPRAI OFFERS SPRAYERS CAPABLE OF SIMULATING MANY TYPES OF RAIN AND INSERTING IN EXPERIMENTAL FACILITIES.
A pluviometry, defined by a pluviometric height and an average diameter of drops Dg, results for a rotating disc atomization head by a flow rate and a rotation speed defined by SPRAI. The SPRAI rain simulator makes it possible to generate different types of rainfall and to switch very easily from one rain to another by simple remote control without intervention on the installation.
This solution favors flexibility and is scalable , two parameters that seem very important to us for a research and testing laboratory.
Our rain simulators are made to measure based on specifications defined by the customer. SPRAI brings its expertise and its know-how in this field.
The installation, as well as any subsequent modifications, does not require special technical knowledge and can be carried out by local teams.
FIND OUR PRODUCTS: